Our Strategic Framework
Having spent many years applying traditional corporate finance metrics and doing extensive capital market research on what really drives share prices, Fortuna Advisors developed an innovative approach to corporate performance measurement that materially improves the balance between driving efficiencies and promoting investments in growth.
The measure is Residual Cash Earnings (RCE), which is a cash based measure of economic profit, which was first publicized in the Journal of Applied Corporate Finance (see Postmodern Corporate Finance). One of the main problems with traditional return and economic profit measures is the front loading of costs that tends to make new assets look bad and old assets look good. To avoid these front loaded costs and better encourage investment, without an incentive to milk old assets, we don't charge depreciation and we keep assets at their original purchase price. For businesses where P&L investments like R&D, rent, and marketing are prominent, we can capitalize these values to encourage more investment and enduring accountability.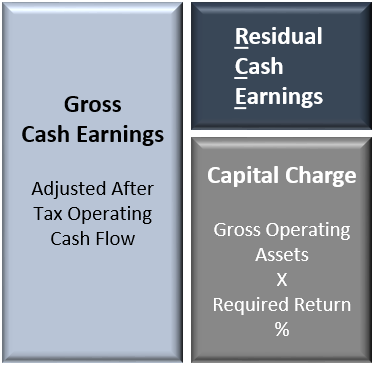 The measure is customized for each client and renamed based on the client name (i.e. AVA, BVA, CVA, etc.).
Five Tools of Value Creation
The goal is to drive positive improvement in RCE, which is achieved by prudently managing the 5 tools, with reinvestment, innovation, excellence and a long-term focus. The 5 tools encourages executives and employees to manage short-term demands of effectively running a business, while planning and delivering on long-term results.